ALLEY KATZ SKIFFLE GROUP, THE
Last updated: 12-01-2014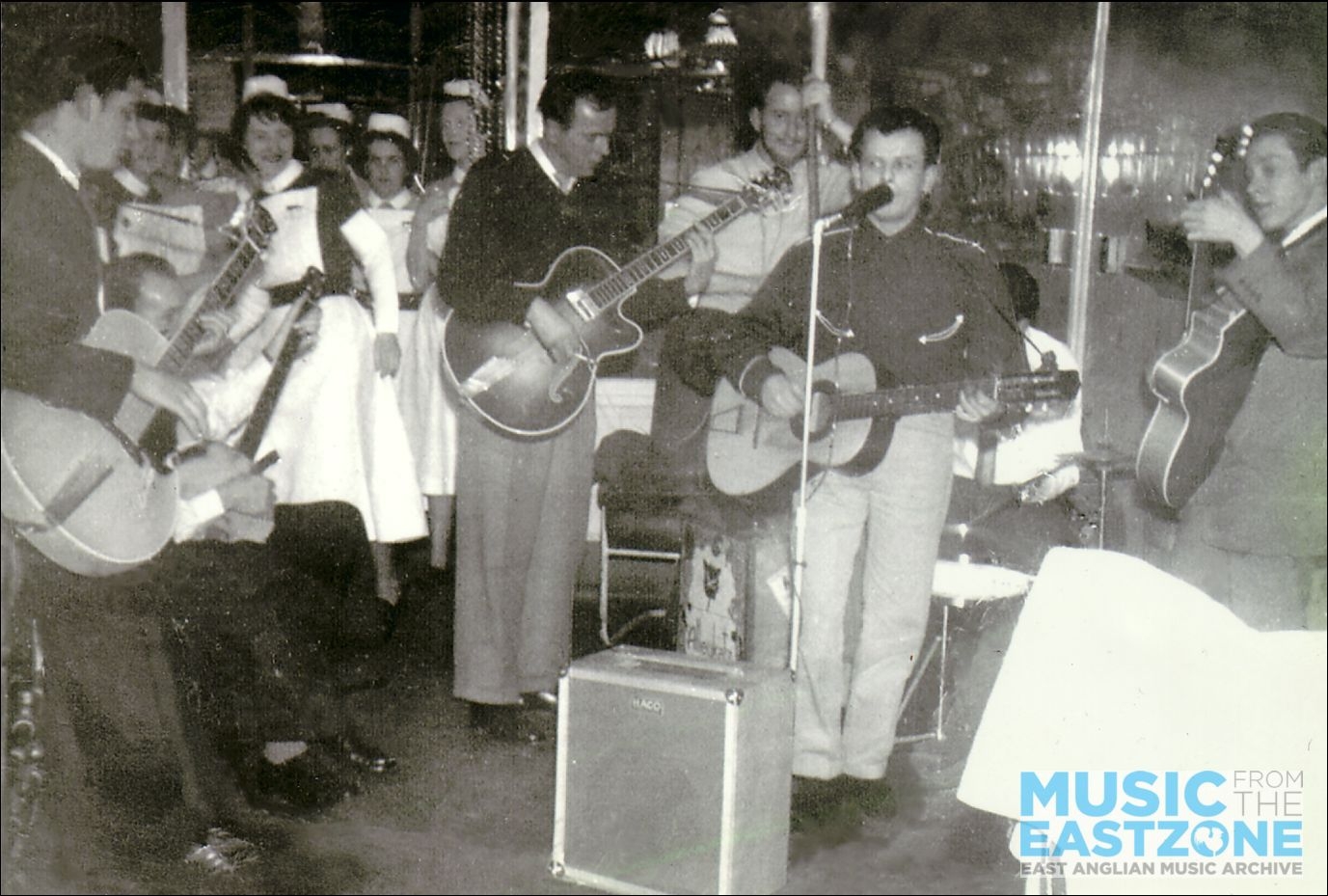 More Info Required
Also Known As:
The Alley Katz
The Alleycatz
Basic Information
Active Years:
M1958 - M1959

Lead Vocals: Pete 'Jock' Bullen left not replaced
Lead Vocals,Washboard: Brian Lambert
Vocals: Malcolm Hooper am
Vocals, Guitar: Micky Large am
Guitar: Bob Bowles
Guitar: Alan Callf am
Tea Chest Bass: Sid 'Ginger' Waller
Banjo: Frank Wienle
Drums: Stewy McIntosh (2)Derek Moore am
The roots of this scratch skiffle band lay in the hands of Norwich art student Pete 'Jock' Bullen, Pete had already fronted other skiffle groups but teamed up this time with ex RAF man Brian Lambert. "We christened ourselves the Alleykatz after the howling racket tomcats make" laughs Brian. "Our first gig was at The Royal Oak on North Walsham road" he continues "City footballer Bobby Brennan was there, he bought us all a drink and wished us good luck." Another main stay of the early band was banjo player Frank Wienle who was instrumental in initiating the first sessions of the band.
The band became resident at the Red Lion Pubic House in St George's, Norwich. Landlord Jimmy Beales would often in invite local musicians to deputise with the band, although the original nucleus of the band remained Bullen, Lambert, Waller, Bowles & Winley. Jock then quit art school and got married and moved on whilst Brian took charge of the group. As the sound of the day moved towards the Rock'n'Pop era the younger members drifted away. Stewy left to form part of Rock'n'roll outfit The Zodiacs. During The Katz half-time break Malcolm Hooper would often run from the Red Lion to the Horse Barracks pub in Barrack street to perform guest appearances with the newly formed Toffs a band he was later to become a permanent member of. Brian left the music business and settled down to a life of married bliss.
(Bullen - The JT Skiffle Group) <> (McIntosh -The Zodiacs) (Moore -The Footprints) (Hooper -The Toffs) (Large -The RH Skiffle Group)