OFFBEATS, THE (1)
Last updated: 22-09-2016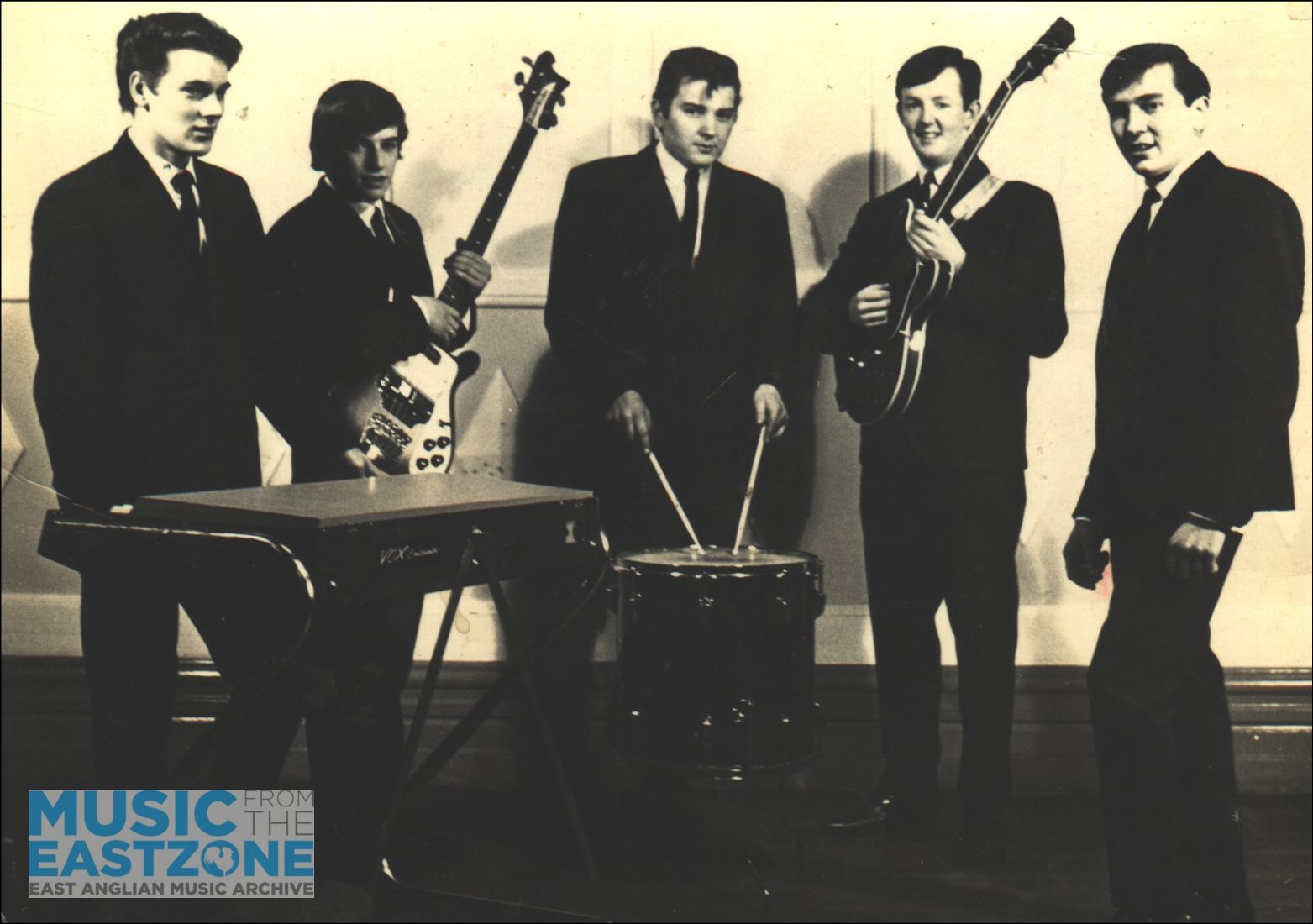 More Info Required
Also Known As:
Danny Ford And The Offbeats
Basic Information
Active Years:
M1959 - C1968

Lead Vocals: Les Garner aka Danny Ford (2)Don Teeuw
Guitar: Roger Wagg (2)Tony Pull
Guitar: Les Judd (2)Mick Large (3)Ian Duffy
Bass: Nick Carter > Keys (2)Andy Burnham (3)Graham Murfitt (4)Roger Smith
Keys: Stuart Bates added member
Drums: Nigel Portass > Keys/Sax (2)Derek Stringer (3)Ian Griggs
It can be un-questionably stated that the stalwarts of the Kings Lynn music scene for the best part of the sixties were The Offbeats. Many bands had come and gone by the time the group called it a day in early 1967. Including other close possible contenders for the title such as The Sabres and The Tea Time Four. The line-ups above paint a mixed picture of the groups progress, but Nigel Portass the groups only ever present member points out. "Many of the line-up changes came in the later stages of the groups career"
The band had an unlikely start to their Rock'n'roll careers. Nigel takes up the story "Myself, Roger and a guy named Richard Aire were all at Spalding Grammar together. We were rehearsing our instruments with the idea of staring a band. We all used to go to the Kit Kat club. During the break of the Brain Walker Show Band one night were were asked to go up and play a number, after much deliberation we took to the stage having convinced a friend Baz Hall who couldn't play a note just to swing the Double bass around on stage. Rock n roll was in it's infancy at the time and we got up and played some Chuck Berry, Baz threw the bass around and it went down a storm and from this we were asked if we would like a residency at the club."
Once the band had begun they were soon joined by Les Garner who joined them on stage one night after a few people had suggested he could sing. A couple of drinks for dutch courage and the career of Danny Ford was underway.
In September 1964 the band paid a visit to Bob Booths, Kings Lynn studio (Bayes Recordium) and after a quick rearrangment of the intended set to accomadate les's stinking cold the band produced recordings that went on to make their first acetate ep.
By late 1964 the band had rejuvinated itself and was relaunched as Danny Ford & The New Offbeats. In [date required] they traveled down to Decca's studio's in [place required] and recorded as Jane Beasants backing band the record was released and came out on [label required] and according to Nigel reached number 78 in the charts. The band were resident upstairs at Hunstantons Kit Kat club for an impressive 8 years
Tony went on to join The Sabres in [date required] but returns to the band after they come back from Germany. Today Nigel & Nick are in business together running Portis & Carter Music out at Sutton Bridge, Nigel still performs [unconfirmed]
One of the band sadly pass away in his early twenties we are trying to find out which on [confiramtion required]
Supports: Billy J Krammer & The Dakotas / Chuck Berry / Buddy Blue & The Blue Kats / Nero & The Gladiators / The Clearways / The Interns / George Fame & The Blue Flames / The John Barry Seven featuring Marty Wilde / The Checkmates / Terry Franks & The Avalons / Davey Jones with Neal Christian & The Crusaders / The Casuals / Shane Fenton & The Fentones / Styx Alan And His Full Band / Graham Walker & His Rhythm Quartet
Residency: Kit Kat Club, Hunstanton [dates required]
Discography:
RtR Jealous Man / I Can Tell / The Shadow Knows / Little Queenie 18/09/1964[ ]
released on Actetate by Bayes Records the same year
Mediography:
Upwell boys lead way in our beat group contest AP 07/05/1964[ ]
TV: [station and show required] August 1961
(Pull -The Strangers) (Large -The Fretmen) <> (Pull -The Sabres) (Portass -The George Kaye Trio) (Carter - ??)