RAPIERS, THE (1)
Last updated: 27-04-2014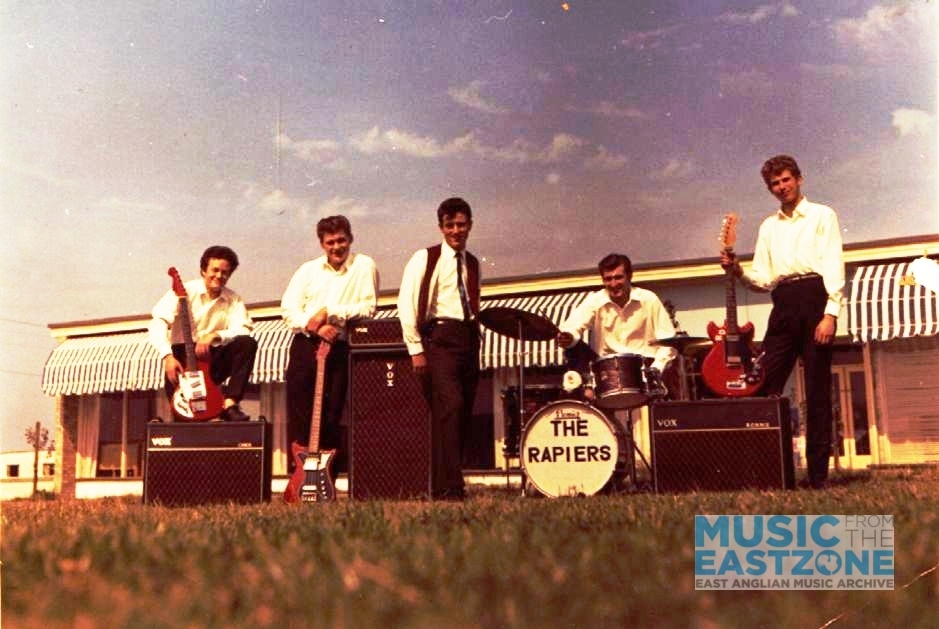 More Info Required
Also Known As:
Ray Adams And The Rapiers
Basic Information
Active Years:
E1963 - L1965

Lead Vocals: Mick McGinn aka Ray Adams
Guitar: Tony Wrench > Drums (2)Ronnie Daring
Guitar: Chris Green
Bass: David Chamberlain ??
Drums: ?? (2)Derrick Townsend (3)Tony Wrench
The Rapiers were formed in [month required] 1963 when Chris Green & Tony Wrench teamed up whilst working at [business name required] electrical wholesalers on Hay Hill in Norwich. Chris drafted in school friend Mick McGinn on vocals and he became frontman Ray Adams.
Derrick had joined the band from The Vendors but left in Mid 1965 to get married leaving his seat to Tony Wrench. This was to be Derricks last adventure in the sixties but returned to play with many other bands and currently plays with The Sequal Show Band
The demise of the band came about when Ronnie Daring left to Join The Circuit 5
Venues: Olympia, Cromer / West's Holiday Camp, Caister
(Daring -The Midnights)(Townsend -The Vendors) <> (Daring -The Circuit 5)(Green -The Montels)