JAILBIRDS SKIFFLE GROUP, THE
Last updated: 13-04-2014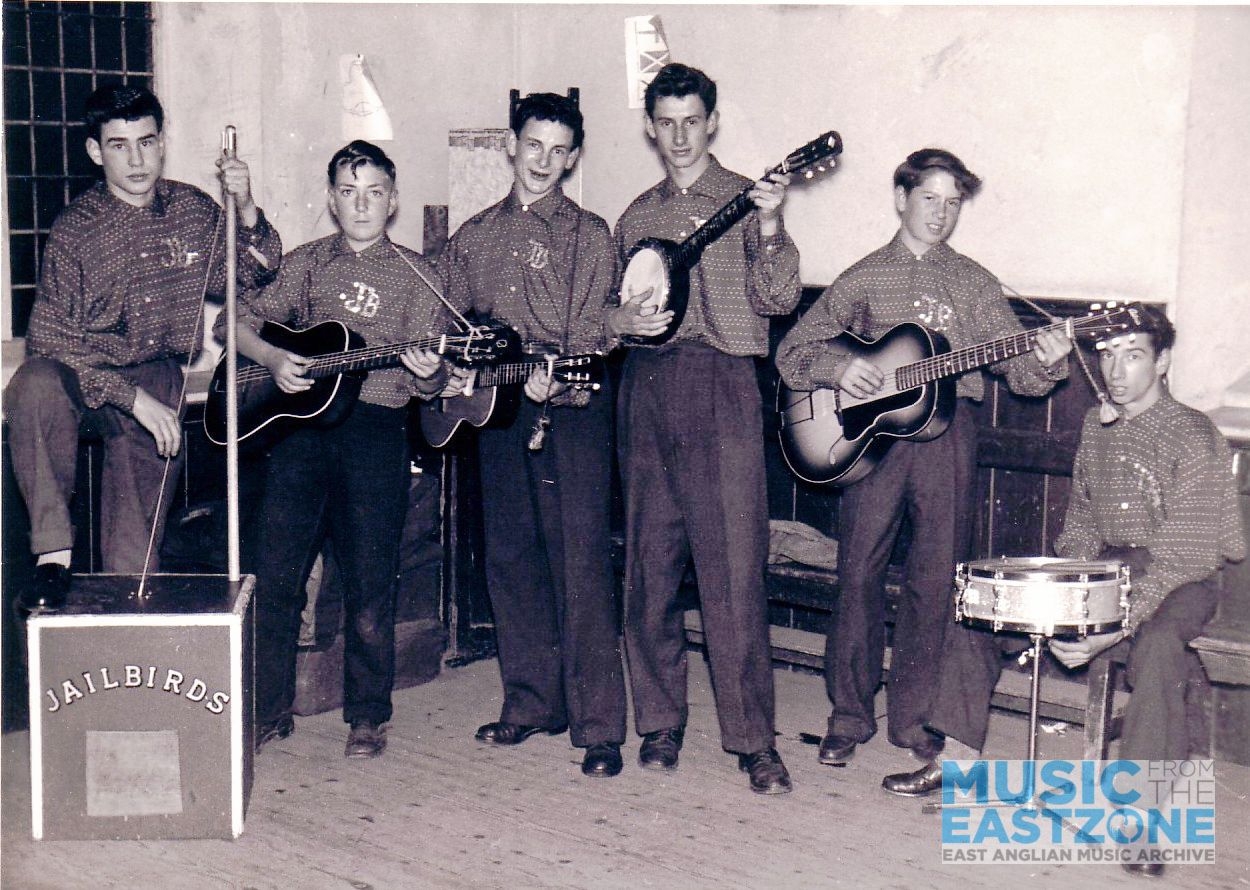 More Info Required
Also Known As:
Larry Jordan And The Jailbirds
Stan Jordan And The Jailbirds
Basic Information
Active Years:
E1957 - M1959

Lead Vocals: Clarence Pye aka Larry Jordan
Vocals: Kenny Johnston
Guitar: Mike Lorenz
Banjo, Guitar: Howard Platt
Guitar: John Zagni
Bass: David Pennington
Drums: Frank Zagni
The Zagni Brothers, who's father ran a city based Asphalt company would rehearse at their family home in Cecil road. They had not been going more than a couple of months when they decided to enter Norwich's first ever Skiffle contest at the Industries Club in Oak Street on 12th June 57. The group tied for second place with the Dereham, Vampires, launching themselves as one of the areas newest & hottest skiffle groups.
The group began to build up a good following. Mike Lorenz moved on to join The Off Beats and Kenny Johnson came in on vocals and 1958 was going to be their year. In March 1958 the group won a regional audition held at Norwich's Gaumont cinima then on the Hay Market for an appearance on top national music show Six Five Special
The paper were there to see them off to the final in London where the group performed Love Letters In The Sand landing them a respectable second place.
With the success of the six five special under their belts, the group confidently entered The Orford's Skiffle of the year contest in June the same year winning their heat to make the final at the club on the 30th June. Although the group did not win they held back the favourites The Jack'O'Diamonds featuring the growing talents of Mick Large, who were placed third. The Jailbirds took second to the Coltishall based Sidwinders but also took best singer in (Larry Jordan) and best bass player (David Pennington). If this wasn't success enough the group then recorded a version of 'One the ball City' to coincide with Norwich's cup run that year. Although a copy has not been found Frank assured us that it was released on vinyl. As the skiffle craze drew to an end two events led to the end of the Jailbirds chapter. The first was the introduction of the Frank & John's younger brother Ivan on guitar. 'We didn't realize he was so good' Said Frank Zagni 'We heared he was playing and decided to pop along and watch, we could hear the music coming from the hall before we even entered but had no idea it was Ivan, He could really bend those strings' The second was a visit to Butlins were they meet Stu McIntosh & Micky Woodcock both boys had been playing with the Zodiacs and decided join forces to form rock 'n' roll outfit The Cadillacs Clarence Pye continued to entertain singing with many local outfits, and in 1959 became one of the first singers to appear on the Anglia TV, when he performed 'Rawhide' on The Midday Show for the princely sum of £10.
Discography: On the ball city b/w ??[ ]1958
Mediography:
City skiffle group do well in contest EEN 05/03/1958[ ]
Jailbirds in last four EEN 18/04/1958[ ](P)
<> The Cadillacs (Johnston - The Dices) (Lorenz - The OffBeats)